"Living in Orange County or Potato Creek but your taste leans more towards The Big Apple? Well, start spreading the news because these beloved New York City specialties, now ready for nationwide delivery, will put you in an Empire State of mind." TARA COX MAR 4, 2021
"…If you've ever been to an NYC diner you've most likely had Vassilaros and Sons Coffee, the family run company that's been supplying most of them for years. Immigrant-grown and women-owned, they've been in the coffee game since 1919, filling those iconic little blue Greek coffee cups (called the Anthora) so closely associated with New York. The company recently expanded from strictly wholesale to direct to the consumer, so you can now enjoy a perfect cup of NYC diner coffee at home. Order yours here – and while you're at it, you might as well get your own anthora cup!"
To purchase a bag of "NYC's Best" click here and be sure to enter the coupon code "NYCBEST" to but one and get one free!
Click here to read the full article
By Meghan Harlow| July 21, 2020 | Photos by Courtesy of Vassilaros & Sons Coffee
Whether you know it or not, if you've ever had a great cup of coffee from one of New York's iconic "We Are Happy to Serve You" paper cups, you've likely been a part of the Vassilaros family's story of immigrant-grade grit, dedication and goodness.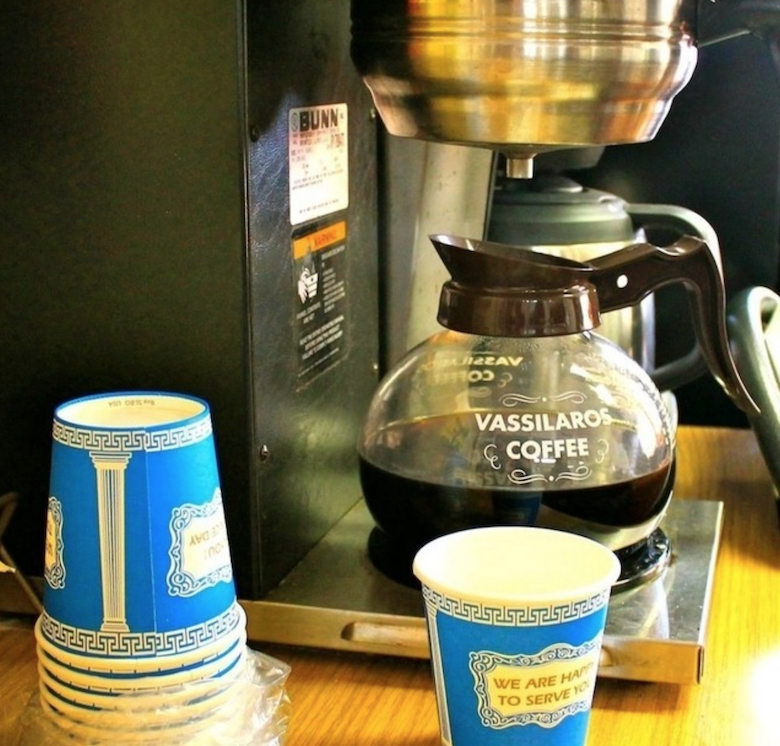 Click here to read the full article
Queensborough Celebrates Vassilaros & Sons Coffee and Queens Chamber Business Person of the Year, President Alexandra Vassilaros!
"Flushing, Queens-based coffee roaster Vassilaros & Sons has already signed onto the new service. Chief Executive John Moore sees Alibaba as performing a function similar to trade shows, but with the advantage of being a global operation with the technology to facilitate introductions.
"We haven't really done extensive marketing, and yet we're sitting on a 100-year history and an incredible story that will resonate with a lot of people that would like to identify with New York City," Moore said. "Alibaba gives us a mouthpiece to the planet that we would otherwise never be able to generate ourselves."
The Name That's Not On the Cup – Yet
Vassilaros & sons Celebrates a Centennial, and sets Course for the Future
■ By Constantine n. Kolitsas
Their coffee has fueled New York's movers and shakers, workers, politicians, first responders and businessmen for a century. It's given energy to the workers that erected the George Washington Bridge, the Chrysler Building, the empire state Building, and every new York landmark built over the last hundred years. It's given Wall Street it's morning boost through capitalism's greatest growth periods. And it's pumped up American GIs through global deployments and wars. The new Yorkers that rely on Vassilaros coffee to start off or get through their day are, for the most part, incognizant of the brand, it's rich history, and the painstaking craft and care that go into each cup. But that's all about to change… (click HERE to read entire article)